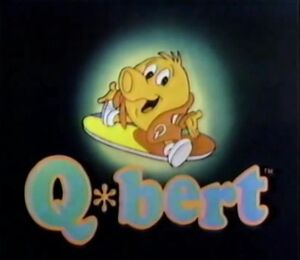 Q*bert is a television show based on the game of the same name. The show ran from October 1, 1983 to 1984. The show had one season and only 19 episodes.
Plot
In a 1950s inspired world set in the town of Q*Berg, a teenage fur-covered creature named Q*bert (voiced by Billy Bowles), his girlfriend Q*tee (voiced by Robbie Lee), his brother Q*bit (voiced by Dick Beals), and his friends Q*ball (voiced by Frank Welker), Q*val (voiced by Robbie Lee), and Q*mongus (voiced by Frank Welker) must deal with the resident bullies Coily, Ugg, Wrong Way (all three voiced by Frank Welker), and Viper (voiced by Julie McWhirter). Features both "block-hopping" scenes, "swearing" bubbles and occasional flying disc, all from the original game. New to the cartoon was Q*bert's use of "slippy-doos", a black ball projectile which he loaded and fired through his nose, producing an oil slick wherever the balls splattered. Slick and Sam (both voiced by Frank Welker) are also featured.
Episodes
Disc Derby Fiasco (October 1, 1983)
The Great Q*tee Contest (October 15, 1983)
Q*Ball Rigamorale (October 29, 1983)
Crazy Camp Creature (November 12, 1983)
Thanksgiving for the Memories (November 26, 1983)
Dog Day Dilemma (December 10, 1983)
Take Me Out to the Q*Game (September 8, 1984)
Noser P.I. (September 15, 1984)
Hook, Line, and Mermaid (September 22, 1984)
Q*Historic Days (September 29, 1984)
Q*bert's Monster Mix-Up (October 6, 1984)
Game Shoe Woe (October 13, 1984)
The Wacky Q*Bot (October 20, 1984)
Q*Beat It (October 27, 1984)
Q*Urf's Up (November 3, 1984)
Little Green Noser (November 10, 1984)
Rebel Without a Q*Ause (November 18, 1984)
Looking For Miss Q*Right (Nomber 24, 1984)
The Goofy Ghostgetters (December 1, 1984)
Characters
Main characters
Gallery
External Links
Community content is available under
CC-BY-SA
unless otherwise noted.