Pixels is a 2015 Sony Pictures film starring Adam Sandler, Kevin James, Peter Dinklage, and Josh Gad. Aliens from outer space misinterpret arcade games as a sign of war and beam down famous video game characters to wreak havoc on the city. Q*bert makes a few cameos in the second trailer with the crowd of the other video game characters. He is later seen alongside the main characters as Donkey Kong tries to attack them. After defeating Pac-Man, the Arcaders is given Q*bert as a trophy. Q*bert is the only video game character that is allied with the protagonists, presumably acting as their pet.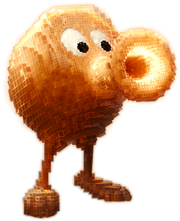 Q*bert can also be seen for a brief second in the first Pixels trailer alongside the Galaga aliens.
Q*bert was the only complex character to model for the film despite being made out of cubes.
This is Q*bert's second theatrical appearance.
Q*bert was voiced by Billy Idol
Community content is available under
CC-BY-SA
unless otherwise noted.